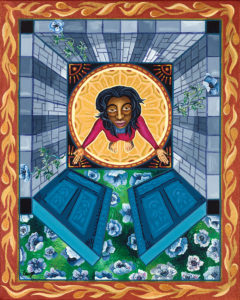 Read Psalm 122. Notice the beauty of verses 6-9:
Pray for the peace of Jerusalem:
"May they prosper who love you.
Peace be within your walls,
and security within your towers."
For the sake of my relatives and friends
I will say, "Peace be within you."
For the sake of the house of the Lord our God,
I will seek your good. (NRSV)
In this city that had been the site of invasion and destruction, the Psalmist prays that there may be peace within those walls – peace, safety, security, harmony, prosperity. It is a heartfelt and heart-wrenching blessing.
In the artwork to the left, entitled Peace Without Your Walls, artist Lauren Wright Pittman depicts peace as opening the walls and our arms. She writes, "When I began to paint this piece, I kept wondering how walls and peace can coexist, but if I'm honest, if true shalom were to be realized, there would be no need for walls or towers. For me, peace looks like open doors leading out of the confinement of stone walls and into a field of poppies. For me, peace looks like flowers scaling walls, weakening the strength of stone foundations, and over time, bringing the barriers down. Peace looks like open arms—open to the difficult work of welcoming peace, and open to receiving the boundless gifts of a truly peaceful world" (What Can't Wait Advent Devotional, p.7)
How do you feel about the contrast between the Psalm, and the artist's words? Do you feel that true peace can be achieved within walls? What are some ways that we can help bring peace to our world? Write your comments below!
Peace, blessings, and HOPE,
Pastor Christie
'What Can't Wait' logo, artwork, and study ideas © A Sanctified Art sanctifiedart.org @sanctifiedart