Rev. Christie Beckmann
Pastor
Pastor Christie comes to us from Indianapolis, IN, where she was ordained as an ELCA pastor on January 12, 2019. She was then installed at Hope on February 24, 2019. Before entering the ministry, Pastor Christie served as Director of Event Services at the University of Indianapolis for 15 years. She has previous experience in youth ministry and drama ministry. Pastor Christie is passionate about sharing the message of the gospel, and equally passionate about sharing Jesus's message of radical welcome with everyone. She enjoys preaching, leading worship, and empowering others to use their gifts and talents for ministry. Christie is the proud mom of two sons, Vincent (24) and Marcus (18). She's also a proud dogmom of Shadow, a 6-year-old schnoodle.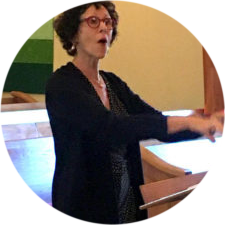 Karen Schweinfest
Music Director
Karen grew up at Hope Lutheran Church and graduated from Colerain High School. She earned her Bachelor's degree and Master's degree from Miami University studying Choral conducting. She retired after 30 years of teaching from Harrison High School. She is an OMEA (Ohio Music Education Association) adjudicator and continuously works with youth and adults in discovering their gifts from God in music. We are truly blessed to have Karen as our Music Director. She directs our traditional choir and our praise band. She always welcomes guest musicians and vocalists. In 2011 Karen helped Hope produce our first Christmas Music CD. Karen has graciously engaged all ages in beautiful music to the glory of God. Karen is married to praise band drummer, Mike Schweinfest, and has a very dear circle of family and friends.
Dale Renner
Organist
Dale is a graduate of Cincinnati College of Music (now CCM at UC). He served as organist at Christ Lutheran Church for 47 years and is currently serving as organist at Hope Lutheran since 2012.